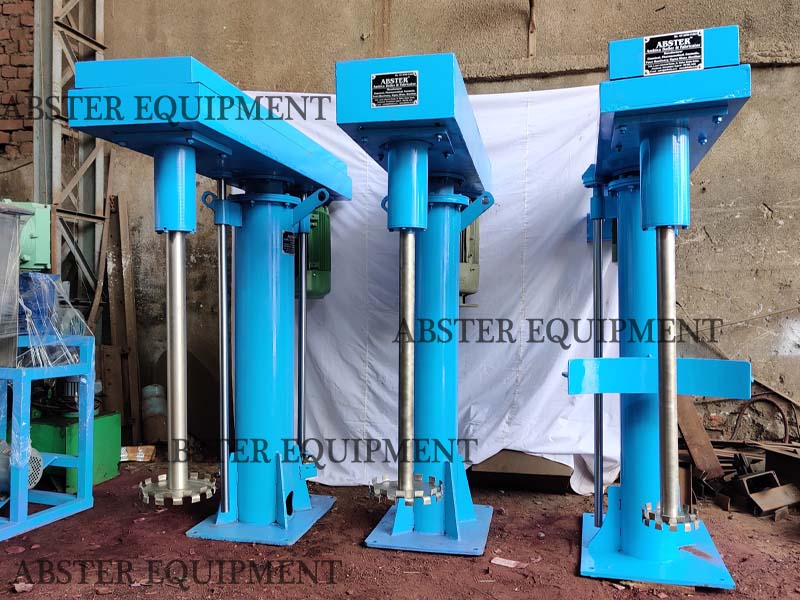 High-speed Disperser (Hydraulic Lifting)
High-speed Disperser (Hydraulic Lifting) has dispersing and mixing function, which used for mass production; Equipment with inverter has stepless speed, can operate for a long time. It has stable running and low noise; Mixing disc is easy to be replaced, and can change different forms of dispersing discs according to production technology; Lifting structure adopts hydraulic cylinder as actuator, stable lifting, integrated hydraulic station, environmental and without leakage. It is an ideal grinding machine for materials with many varieties and many colors.
| | |
| --- | --- |
| 【Material viscosity】: | ≤100000 cps |
| 【Production capacity】: | 50-20000L |
| 【Application Industry】: | Hydraulic Lifting High Speed Disperser Suitable for dispersing, mixing materials in industries such as biology, pharmacy, food, paint, ink, adhesive, pigment, fertilizer etc.. (For more application industry, please click "Free Consultation" |
| 【Applicable Materials】: | Material under 100000 cps viscosity, and solid content under 80% of all kinds of slurry such as emulsion paint, industrial paint, water-based ink, pesticides, adhesives etc. |
Product Advantages
Higher efficiency, better quality
The Max. rotation speed can be up to 2930rpm (For bigger power, 1450rpm), linear velocity is over 20m/s, it can rapidly disperse the powder in the liquid evenly; Due to its high shear forces, the material will be uniformly dispersed and formed a good suspension effect. Due to the strong shearing force , the materials are dispersed evenly and form good suspension effect.
Safe and convenient operation
Adopt hydraulic cylinder as lifting actuator. Control the hydraulic up, stop, down through the oil pump, easy operation and stable. The dispersing disc is fixed to the main shaft with Hexagon socket-head cap screws, which can be disassembled and exchanged quickly, easy to clean. Different dispersing discs can be exchanged accordingly to production process to obtain optimized dispersing result. Different clamping types(Belt Clamping, Manual Rotation Clamping, Pneumatic Clamping) are optional to fix the tanks properly to prevent from accident due to the tank displacement during operation.
Various installation ways
With compact structure, the machine can be floor type and platform type. Tank working with the mixer can be removable type or fixed type.
Customized options
Different options are available such as explosion-proof type, closed type, multi-tanks type, with lifting cover type, co-axial type/dual-shaft type, mounted on kettle type, etc.. Material can be customized to be SS304 \SS321 \SS316L .

Working Principle
Through the high-speed rotation dispersing disc, the materials will become in annular form flow, resulting in strong vortex flow, which descend down to the bottom of the vortex in spiral state. During the process, materials are dispersed, dissolved, mixed and emulsified efficiently due to the strong shearing crash and friction among the particles.
The hydraulic pump drives the hydraulic cylinder ascend and descend, which drives the whole transmission and working set up and down.

Technical specification
Model

Motor power

(kw)

Speed

(rpm)

Disc Dia

(mm)

Capacity

(L)

Hydraulic power
(kw)

Lifting

(mm)

Weight

(kg)

HSD-1.5

1.5

0-1450rpm

120

≤60

0.55

600

400

HSD-4

4

0-1450rpm

200

≤200

0.55

900

600

HSD-7.5

7.5

0-1450rpm

230

≤400

0.55

900

800

HSD-11

11

0-1450rpm

250

≤500

0.55

900

1000

HSD-15

15

0-1450rpm

280

≤700

0.55

900

1100

HSD-18.5

18.5

0-1450rpm

300

≤800

1.1

1100

1300

HSD-22

22

0-1450rpm

350

≤1000

1.1

1100

1400

HSD-30

30

0-1450rpm

400

≤1500

1.1

1100

1500

HSD-37

37

0-1450rpm

400

≤2000

1.1

1600

1600

HSD-45

45

0-1450rpm

450

≤2500

1.5

1600

1900

HSD-55

55

0-1450rpm

500

≤3000

1.5

1600

2100

HSD-75

75

0-1450rpm

550

≤4000

2.2

1800

2300

HSD-90

90

0-950rpm

600

≤6000

2.2

1800

2600

HSD-110

110

0-950rpm

700

≤8000

3

2100

3100

HSD-132

132

0-950rpm

800

≤10000

3

2300

3600
* The capacity is data based on materials with viscosity approx. 1000cps, specific gravity 1g/cm3 as medium. The model selection shall be based on the data such as the materials viscosity,
density etc..
* Special operation condition, such as high temperature, high pressure, explosive, combustible and corrosive etc, details are required for correct model selection.
* If any change in the above table, subject shall prevail without notice.
* The table cannot include all products, please contact with our sales engineers for more information.
Applications of Ribbon Blenders
Ribbon blenders can be designed to operate in both batch and continuous modes. Batch type blenders can be built up to capacities of 50 m3. The ribbon blender's versatility for blending solids combined with it ability to perform heating, cooling, coating, and other processes make it a very popular blender. The following are the applications of the Ribbon Blender:
Blending large volumes of dry solids.
Dry powder to wet phase mixing.
Mixing of bulk drugs, chemicals, and cosmetic powders.
Dry Blending of capsule formulations.
Lubrication of dry granules in large quantity.
Heating, cooling, and drying of materials.
Coating solid particles with small amounts of liquids to produce formulations.
Materials commonly blended in the ribbon blender are as follows:
Abrasives
Engineered plastic resins
Pesticides and herbicides
Animal feeds
Epoxy resins
Pet foods
Bakery premixes
Eye shadow
Pharmaceuticals
Bird seeds
Face powders
Pigments Cake mixes
Fertilizers
Plastic powders
Carbon black
Fire retardants
Polyethylene
Chemicals
Gypsum
PVC compounding
Cleaning compounds
Instant breakfast cereals
Spice blends
Dietary supplements
Instant drink blends
Talcum powders
Dried food products
Laundry detergents
*Specification can be changed as per customers requirements